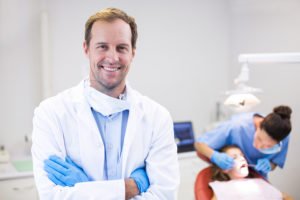 Dentists get a bad rap; people are often nervous, scared, or downright terrified at the mention of them. While seeing a dentist might not evoke warm-fuzzy feelings in everyone, a dental visit will become a necessity in everyone's life at some point.
For those who have not seen the inside of a dental office since they were a teenager, there could be trouble brewing just around the corner. For this reason, picking a new dentist before the big issues crop up could be one of the best decisions you make this year. Keep the following suggestions in mind when making your decision.
Payment & Location. Most people begin the search by looking for offices that take their insurance, as well as other forms of payment, to ease the financial burden on their mind. Next, they look for dental offices that are close to their home for convenience. Keep in mind that dental offices that are a bit further away will be worth the drive if they offer all of the services that you need.
Services & Education. Speaking of services, look for a dental office that can do a variety of dental procedures. The last thing you want to do is get comfortable with your dentist, only to find out that they don't do root canals and you have to be referred out to someone you don't know. And keep in mind that an office that offers additional education, such as newsletters or a website with extra information, is always a good choice.
Atmosphere & Reputation. Once you find an office that meets the needs above, go in for a visit to make sure that it is welcoming, comfortable, and clean. If possible, go on a meet and greet to speak with the dental staff. Look for testimonials from people who have had excellent service and can vouch for the reputation of the dentists and the dental office.
Making A Good Choice
If you're looking for a dentist in the Thousand Oaks area, Community Dental Group meets the criteria listed above. We have multiple services to meet your needs, from implants to oral surgery, and we have a dynamic staff who wants to make your dental experience as pleasant as possible. We've been in the business for over 20 years, and there's no tooth-trouble we haven't seen, and no tooth-dilemma we haven't been able to solve. Stop in and see us now, before you really us.
https://communitydentalgroup.com/wp-content/uploads/2016/03/citeicon.png
0
0
CommunityDentalGroup
https://communitydentalgroup.com/wp-content/uploads/2016/03/citeicon.png
CommunityDentalGroup
2018-02-07 09:00:11
2019-01-17 10:10:32
How To Choose A Great Dentist