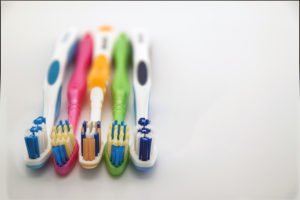 A person does not necessarily purchase the first vehicle that they test drive, nor do they select an article of clothing because it is almost a good fit. However, when it comes to a variety of items that pertain to one's health, like a toothbrush, little to no research becomes done, and consumers often grab the first one they see on the store's shelf. Brushing plays a significant role in removing plaque, bacteria, and germs to keep mouth and overall health at a high-level. With so much at stake like tooth loss, gum disease, and more, these dental hygiene tips are designed to help you find the perfect toothbrush to meet your specific needs.
Things To Carefully Consider In The Toothbrush Decision-Making Process
The design of a brush is important to how comfortable it is for you to use. No mouth is the same, and just because a toothbrush works nicely for one person, does not necessarily mean it will function as well for the next. There are electric models, manual toothbrushes with straight or curved necks, and others with handles for easy grip. With so many choices, a quick glance down the dental hygiene aisle can prove to be an overwhelming experience, so do a little research before you become in need of a new toothbrush, and make the decision a little easier.
Looking closely at the head size can be beneficial in choosing the right brush as well. Bigger is not always better when it comes to toothbrush selection. The accessory will be a part of your daily life for at least the next three months, and if it is awkward feeling or hard to use, your dental hygiene will suffer for this period. Unfortunately, picking a toothbrush is not like trying on clothes, and one can not try it out beforehand, so you will likely have a trial and error period before finding the perfect one.
Of course, no set of tips for selecting a toothbrush would be complete, without mentioning the bristles and their abilities. If the stiffness is too hard, the brush will irritate the gums, and when this irritation occurs, gum recession becomes a possibility. However, if the bristles are too soft, they will not remove plaque, food particles, or other debris that can lead to bad breath and cavities. The next time you are at the dentist for a routine check-up, ask for their recommendation on the best toothbrush to use and stay vigilant in your quest for good oral health.
https://communitydentalgroup.com/wp-content/uploads/2016/03/citeicon.png
0
0
CommunityDentalGroup
https://communitydentalgroup.com/wp-content/uploads/2016/03/citeicon.png
CommunityDentalGroup
2017-09-04 09:00:56
2019-01-17 10:12:15
Dental Hygiene 101: Tips To Help You Select The Perfect Toothbrush