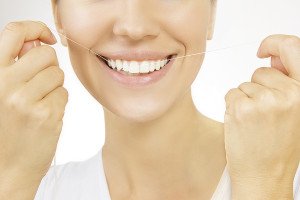 Are you one of the millions of Americans who doesn't floss on a regular basis? If so, one of the most important things that you can do is this: Stop feeling guilty about it!
Yes, flossing is important. In fact, nothing else can stand in for the benefits that we get from flossing, since it can help prevent the development of plaque between teeth.
However, many people worry so much about flossing that it is hard to appreciate it for what it is: A great way to help keep your teeth and gums healthy.
No matter how long you've gone without flossing, you can get started again. In fact, it has probably gotten much easier to floss since last time you did it — if you use the right techniques. So, how can you get back into the flossing habit?
Take A Second Look At Flossing With These Tips
Let's look at common complaints about flossing and what to do about them:
Flossing Is Difficult Or Uncomfortable
Difficulty flossing can arise from technique or coordination issues. To take the guesswork out of flossing, use a floss holder instead of holding onto the floss. A floss holder makes it much easier to maneuver around your mouth with an appropriate amount of floss.
Flossing Can Cause Irritation
Flossing does sometimes cause irritation or bleeding, usually within the first few tries. However, once you get used to the shape of your teeth and gums, you will know where you should practice care to prevent issues.
Flossing Is Boring
Flossing shouldn't take any longer than brushing your teeth — in fact, it can be much faster. If you want to motivate yourself to floss more often, consider giving yourself a reward when you do it every day for a week.
Even If You Haven't Flossed In a Long Time, It's Not Too Late To Start Again
Although not all Americans floss every day, flossing is one of the most critical ways that you can improve the health of your teeth and gums. Even if you haven't flossed in many months or years, starting today may yield great results within a very short time.
Flossing is just one area of dental hygiene that we help our patients with every day here at Community Dental Group. We strive to empower you with the tools and knowledge you need to take control over your dental and oral health.
For a cleaning, check-up, or any of our other services, call or email today. Community Dental Group is your #1 choice in Westlake Village, Newbury Park, and Thousand Oaks. We look forward to seeing you!
https://communitydentalgroup.com/wp-content/uploads/2016/03/citeicon.png
0
0
CommunityDentalGroup
https://communitydentalgroup.com/wp-content/uploads/2016/03/citeicon.png
CommunityDentalGroup
2014-09-01 09:00:35
2014-07-23 08:50:17
How To Get Back In The Flossing Habit And Make Life Easier