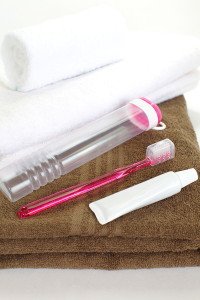 Your toothbrush is probably the single most important item when it comes to your dental hygiene. It's also an item that so many people forget to plan around when they are traveling!
When you travel, you risk being in situations where getting basic necessities is impossible or inconvenient for days at a time. That being the case, it's important to make sure that you are still able to maintain your dental health routine while you are away.
There are several different safety and health issues around the use of your toothbrush when you are traveling. Let's look at some of the most important ones that you might encounter.
Keeping Your Brush Clean
Studies using ultraviolet light and other tools have shown that hotel bathrooms can be highly unsanitary. That being the case, you might wish to use a toothbrush case securely within your baggage if you decide to bring your own brush with you on your trip.
Separating Your Brush And Brush Heads
For added protection, those who use an automatic toothbrush may wish to keep their brush and their brush heads separate. If possible, try to bring a new brush head for each day of your trip. When you return, you can clean these rigorously before using them again.
Disposable Toothbrushes Instead?
More and more hotels are offering disposable toothbrushes to their patrons. These brushes come in individually wrapped, so it's much less likely that you'll run into a sanitary issue. However, they tend to be very small, so be diligent in your brushing if you end up using one.
Mouthwash And Other Issues
Remember that mouthwash and toothpaste are both notorious for causing slower service at airport security lines. If you're not comfortable with carrying them, you will often be able to get more at your destination airport, though prices can include a significant markup. Some hotels will provide these items for free.
All in all, it is important that you don't allow your dental hygiene to lapse while you're away. At the same time, be extra careful of common travel situations that can cause your brush to become dirty. Never, ever keep it in your baggage outside a sealed baggie or toothbrush case.
Looking to make sure your teeth are as clean as they can be? Call Community Dental Group. Our experienced dentists and compassionate support staff are standing by to help.
https://communitydentalgroup.com/wp-content/uploads/2016/03/citeicon.png
0
0
CommunityDentalGroup
https://communitydentalgroup.com/wp-content/uploads/2016/03/citeicon.png
CommunityDentalGroup
2015-03-20 09:00:54
2015-02-17 21:13:35
Keep Your Toothbrush Safe When You Travel