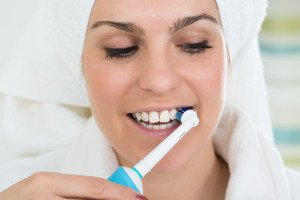 Brush your teeth! It's the mantra that Moms and Dads all over the country shout to their children from an early age. Everyone knows that brushing leads to good dental health, fewer cavities, and fresher breath. But sometimes, it's tough for kids and adults to muster up the energy to do it!
Everyone Needs Better Brushing
Research shows that many of us are not brushing our teeth as thoroughly as it's required to get the right benefits. Children (and many adults) are often too quick or too limited on where they brush. Don't you just wish that there was a toothbrush that did the job for you? Actually, that's just what the electric toothbrush is all about. But is it really all that it's cracked up to be? Yes and no; you decide.
The Pros
There are several ways in which you can benefit from using an electric toothbrush, but mostly it gets your teeth and gums cleaner.
It's easy to use. All you have to do is hold the toothbrush at the correct angle and let it go to work. Plus, it can get to the hard-to-reach places that you might miss with a manual brush.
Better results. An electric toothbrush can do a better job of cleaning your teeth and removing plaque, as well as preventing gingivitis, with a lot less work.
Perfect timing. Electric toothbrushes have a built-in timer that lets you know when you've brushed long enough, which is the key to really clean teeth. You don't get this with a manual brush.
It's kind of fun. If brushing your teeth can be considered fun, it's only because you have an electric brush. It can produce a tickling or a massaging sensation that makes tooth-time more interesting for children and adults alike.
The Cons
There are a few cons to electric toothbrushes, so if you are a die-hard manual brusher, you might decide to stick with it for the following reasons:
You'll need to charge it. If it has an adaptor, you'll need to make sure that you have it charged and ready when you are. If it takes batteries, you better have extra batteries on hand so you don't skip a brushing.
It's a bit pricier. Even though there are several financial options to choose from, you'll definitely pay more for an electric toothbrush.
Not great for travel. Taking your electric brush on vacation can be a real pain. Plus, you'll need to take the charger or bring batteries, which can take up room in your suitcase.
It breaks easier. Drop your manual toothbrush, no big deal. Drop your electric toothbrush and it can be the end of the line.
Now that you know some pros and cons, you can make your own choice. But no matter what kind of toothbrush you choose, the important thing is that you use it as thoroughly as possible for 2-minutes, twice (or more) a day to keep the cavities away.
https://communitydentalgroup.com/wp-content/uploads/2016/03/citeicon.png
0
0
CommunityDentalGroup
https://communitydentalgroup.com/wp-content/uploads/2016/03/citeicon.png
CommunityDentalGroup
2017-02-17 09:00:08
2017-02-09 07:29:27
Pros And Cons Of Going Electric