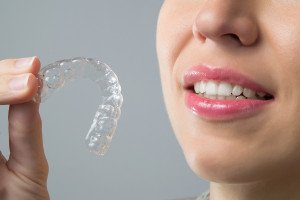 What do you do when you're all grown up and realize that you need braces? You worry about how you'll look. You can't help that you're self-conscious about your smile; who isn't? Sure, you want to have a grin that's worthy of the best selfie, but at what cost? When you think back to junior high, you remember how awkward and different the kids who had braces looked. No one looked happy about wearing them, but they did all have nice teeth by high school! Maybe all of that awkwardness was worth it; now you wish that you had done something sooner.
Too Self-Concious
As adults, we sometimes feel even more self-conscious than a teenager. Not only does your smile effect your mood, it can also affect the mood of those around you. Those who work with the public are especially self-aware of their grin and even those who work in an office with a handful of employees can feel the sting of a smile-gone-wrong. The problem lies in the fact that no one has the time, or the patience, to deal with all of those wires and headgear.
Believe it or not, there is a way you can have it all. Consider a clear, customized solution called Invisalign.
Straight And Clear
Invisalign straightens your teeth using a series of clear plastic bands that fit securely over your teeth. As your teeth begin to shift, you'll be fitted for your next set of aligners so that your progress continues until your teeth are right where they should be. You can wear them through all of your normal activities and no one will even know that you are wearing them except you! The days of flashing metal, too-tight wires, and self-consciousness are a thing of the past. And best of all, you can eat what you like without worrying about anything getting stuck because the plastic bands are removable.
Don't let your crooked smile or a metal mouth keep you from being who you want to be; consider the clear.
https://communitydentalgroup.com/wp-content/uploads/2016/03/citeicon.png
0
0
CommunityDentalGroup
https://communitydentalgroup.com/wp-content/uploads/2016/03/citeicon.png
CommunityDentalGroup
2017-02-22 09:00:13
2017-02-09 08:05:54
The Secret In Your Smile