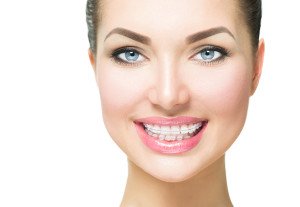 Braces have become something of a rite of passage in our culture. So many kids wear them to correct an otherwise imperfect smile, it's practically a given that at least one child in every family will require braces. Of course, braces aren't just for kids. Sometimes adults also require the orthodontic correction afforded by braces.
Braces are used for alignment and to adjust the spacing between teeth. They gently realign teeth over time, leaving the wearer with a straighter smile and a more even bite. Used to correct a variety of dental issues, braces are usually installed under general anesthesia. Braces are an effective way to fix overbites, underbites, crooked teeth, and a multitude of other issues affecting the teeth or jaw. Braces can be worn for simple cosmetic corrections or more serious structural adjustments.
If your dentist prescribes braces, this does not necessarily mean that you must spend the next year and a half of your life staring at a metal-plated smile in the mirror every morning. Traditional metallic braces remain an option, but some modern types of braces are nearly invisible and work just as well as conventional braces.
Braces Date To Antiquity
Braces are not a modern invention. Mummified remains have been discovered with wire-wrapped teeth, and the Etruscans buried their dead with a sort of ancient retainer intended to keep the teeth intact in the afterlife. The ancient physician Hippocrates pondered various teeth-straightening methods. Even the greatest mind of the ancient world, Aristotle himself, contemplated the best ways to fix crooked teeth.
Modern orthodontics didn't really take off until the 19th century. Prior to this, practitioners of the dental arts were primarily concerned with straightening the palate. Eighteenth-century French physician Pierre Fauchard is perhaps the forefather of modern orthodontics. Fauchard used a metallic device, called a bandeau, to correct issues with the arch of the mouth. By the time dentistry rolled into the 20th century, the usefulness of modern braces to correct a variety of dental issues was widely recognized.
Need Braces? Call Community Dental Group
Community Dental Group has been straightening Newbury Park smiles for nearly twenty years! Call us today at 805-499-1253 to schedule an orthodontic consultation. Whether you need braces to correct a structural issue or address a cosmetic imperfection, we can help. Our qualified dental staff will answer any questions or concerns that you might have regarding any dental issues or procedures.
https://communitydentalgroup.com/wp-content/uploads/2016/03/citeicon.png
0
0
CommunityDentalGroup
https://communitydentalgroup.com/wp-content/uploads/2016/03/citeicon.png
CommunityDentalGroup
2015-07-22 09:00:16
2015-07-17 00:41:52
What You Should Know About Braces