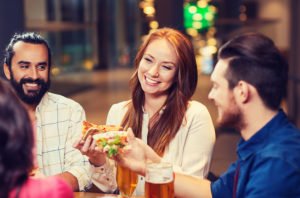 With the holidays upon us, it is important to remember our dental hygiene and oral health. Even when we are facing the busiest days of the year, we should not forget the important things such as our tooth and gum health.
Also with the holidays, we see an enormous amount of food, drinks, and other treats that can potentially wreak havoc on our oral health if we are not careful and diligent with our everyday routine.
The following are just a few tips you can take with you for the holidays to help maintain that bright and brilliant smile.
Exercise Caution
Christmas brings the vast assortment of candy canes and other hard candies, and if you are not careful, you can bite into one of these sweet treats and face the pain of a broken or chipped tooth. Never try to chew these candies or bite right into them. Give them the time to dissolve in your mouth, as intended, and remember to brush your teeth and floss.
Carefully Consider Drink Choices
As with any time of year, holiday or not, soda and wine are sugary and can easily stain the teeth. If you are attracted to the bubbly feel of soda, perhaps try bubbly water instead or at least drink the soda through the straw to give your teeth more of a fighting chance. And while red wine may be a favorite, perhaps consider a white wine variety instead.
Eat and Indulge
Food is another element of the holidays that is always front and center, however, there is a bright light at the end of this tunnel. Turkey is actually full of phosphorous and protein which has the ability to help the body fight off tooth decay so don't hesitate when you go back for seconds.
Veggies and cheese are also good because they are packed full of vitamins and calcium. All these nutritional additives can help strengthen your tooth enamel and save your smile.
If you are in the Thousand Oaks, Newbury Park, or Westlake Village areas in California, make sure you call and schedule your six-month cleaning appointment to keep your oral health on track.
https://communitydentalgroup.com/wp-content/uploads/2016/03/citeicon.png
0
0
CommunityDentalGroup
https://communitydentalgroup.com/wp-content/uploads/2016/03/citeicon.png
CommunityDentalGroup
2017-12-04 09:00:36
2019-01-17 10:11:14
Holiday Dental Tips